A Quantum World of Propensity Forms
Revisit: Hamiltonian Quantum Mechanics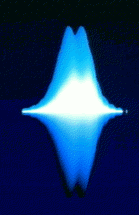 Energy operator generates the wave function,

according to Schrödinger's time-dependent equation

Propensity wave generates the actual measurement

according to Born's Probability Rule for |y|2

Actual measurements = selections of alternate histories
'Energy', 'propensity waves' are two kinds of propensity
Measurements are 'Actual Selections'
Actual measurements are selections of alternate histories
Unphysical alternatives actually removed by some (undiscovered) dynamical process.
This sets to zero any residual coherence between nearly-decoherent histories, if a branch disappears.
Different alternatives uioften summarised by an operator A of which they are distinct eigenfunctions: Aui=ai ui, and labeled by some eigenvalues ai .
'Nonlocal Hidden Variables' in ordinary QM:
'Energy', 'propensity' and 'actual events' are all present, though hidden, in a 'generative' sequence.
Energy and propensity exist simultaneously, continuously and non-locally.
Actual events are intermittent.
Does this describe QM as we know it?
What does the wavefunction describe?
The wavefunction describes dynamic substances, which are configuration-fields of propensity for alternate histories.
The wavefunction of an 'individual particle' Y(x,t) describes the 'isolated' propensity for x-dependent decoherent alternatives if these were initiated at time t.
Wholeness and Non-locality
The propensity fields:
extend over finite space regions and time intervals, so are non-local,
act to select just one actual alternative,

subsequent propensity fields develop from the actual alternative selected,

'whole' substances, but:
usually contain many 'virtual substances' (see later) in whole 'unitary compound'

So express using configuration space, not in 3D.
We need further analysis of 'quantum composition'.
Summary
I hope that this is an accurate classification of the several 'stages' in nature, as seen in QM.
Should help to understand quantum physics and what really goes on.
We can find 'what the wave function describes', if we think carefully and with imagination.